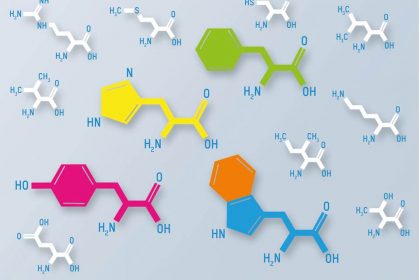 Amino acids are structural units of proteins and it is possible to consider them as the bricks that, joined by a peptide bond, form a long sequence that gives rise to a protein.
Amino acids are classified into two groups:
– Essential amino acids are well defined because they can not be producted by the body and therefore must necessarily be introduced with food. The 8 essential amino acids are phenylalanine, isoleucine, leucine, lysine, methionine, threonine, tryptophan and valine.
– Non-essential amino acids are those that the human body is able to produce and therefore it is not necessary to take them through feeding. These include alanine, asparagine, aspartic acid and glutamic acid.
Essential amino acids
The discriminating feature is the inability of the essential amino acids for the human body to produce them: the essential amino acids must be introduced with food. Their content is satisfactory in foodstuffs of animal origin, whereas plant sources are often lacking.
The amount and the type of essential amino acids defines the protein quality.
Protein synthesis is assured of taking adequate amounts of essential amino acids. Consequently, a deficiency of these amino acids restricts the entire process of protein synthesis and thus affect the functions performed by proteins: plastic function (repair and cell growth ), regulatory function, function of defense and protection, transport function, energy function.
| | |
| --- | --- |
| Essential amino acids | Function |
| Phenylalanine | precursor of tyrosine, which in turn form L- DOPA, epinephrine and norepinephrine |
| Tryptophan | precursor of serotonin (a neurotransmitter), melatonin and niacin |
| Leucine | (BCAA: branched-chain AA) construction and maintenance of muscle tissue, promotes protein synthesis in muscle and liver, slows the breakdown of muscle protein and promotes the regeneration processes |
| Isoleucine | (BCAA: branched-chain AA) construction and maintenance of muscle tissue, promotes protein synthesis in muscle and liver, slows the breakdown of muscle protein and promotes the regeneration processes |
| Valine | (BCAA: branched-chain AA) serves as the other two amino acids with branched-chain carbohydrates (leucine and isoleucine) to the nourishment of the muscle |
| Threonine | tissue formation and strengthening of the immune system, helps to prevent the accumulation of fat in the liver, for this why it is considered as a substance that can detoxify the liver. |
| Methionine | synthesis of cysteine​​, carnitine and taurine by the process of the trans-sulfuration; intervenes in the reactions of methylation of nucleic acids |
| Lysine | precursor of niacin, included in the composition of collagen, the fibrous protein that makes up the bones, cartilage and other connective tissues, promotes the formation of antibodies, hormones (such as growth) and enzymes, it is also necessary for the development and the establishment of calcium in the bones |