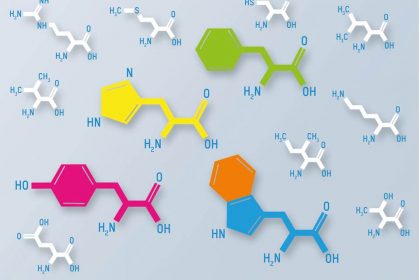 In an italian study published in 2010 on the international Journal Cell Metabolism, a supplement of branched chain amino acids BCAA (leucine, isoleucine and valine) has extended the life of mice middle age 1.
Previous studies have shown that these three amino acids were able to lengthen the life of a single-celled yeast (Saccharomyces cerevisiae ) 2.
In addition, previous studies prior the supplementation with branched chain amino acids BCAA has been shown to improve disorders associated with aging such as sarcopenia, insulin resistance, type 2 diabetes and dysfunction cardiovascolari 3 , 4.
In the study of 2010, italian researchers have administered to male mice aged an additional amino acid (1.5 mg/kg/die) within the water, until the end of life.
The group of mice who took the supplement had lived longer than the group of mice "control" that did not take the supplement with amino acids: on average the first group lived 869 days, while the other group lived on average 774 days.
The elongation of life is the result of 12%, or 95 days.
The researchers also found that mice supplemented show a higher activity of the "longevity gene" and the genes of the defense system against free radicals. According to the study, treated animals also showed improvements in physical endurance and motor coordination.
This study provides a rational to investigate the role of amino acids in human health, and in particular in the prevention and control of disorders related to aging.
References:
1 Giuseppe D'Antona, Maurizio Ragni, Annalisa Cardile, Laura Tedesco, Marta Dossena, Flavia Bruttini, Francesca Caliaro, Giovanni Corsetti, Roberto Bottinelli, Mechele o Carruba, Alessandra Valerio, and Enzo Nisoli. Branched.chain amino acid supplementation promotes survival and support cardiac and skeletal muscle mitochondrial biogenesis in middle-aged mice. Cell Metabolism 12, 362-372, October 6, 2010.
2 Alves AL, Fishwick LK, Wood MS, Hu D, Chung HS, Dunn WA Jr, and Aris JP (2009). Autophagy and amino acid homeostasis are required for chronological longevity in Saccharomyces cerevisiae. Aging Cell 8, 353-369.
3 Solerte SB, Fioravanti M, Locatelli E, Bonacasa R, Zamboni M, Basso C, Mazzoleni A, Mansi V, Geroutis N and Gazzaruso C (2008). Improvement of blood glucose control and insulin sensitivity during a long-term (60 weeks) randomized study with amino acid dietary supplements in elderly subjects with type 2 diabetes mellitus. Am J Cardiol 101 (11A), 82E-88E.
4 Solerte SB, Gazzaruso C, Bonacasa R, Rondanelli M, Zamboni M, Basso C, Locatelli E, Schifino N, Giustina A and Fioravanti M (2008). Nutritional supplements with oral amino acid mixtures increases whole-body lean mass and insulin sensitivity in elderly subjects with sarcopenia. Am J Cardiol 101 (11A), 69E-77E.